Our special February meeting of the Eudunda Family Heritage Gallery 'Friends of the Gallery' morning tea which celebrated the Galley's Birthday each year was combined with The Probus Club of Eudunda & Districts this year.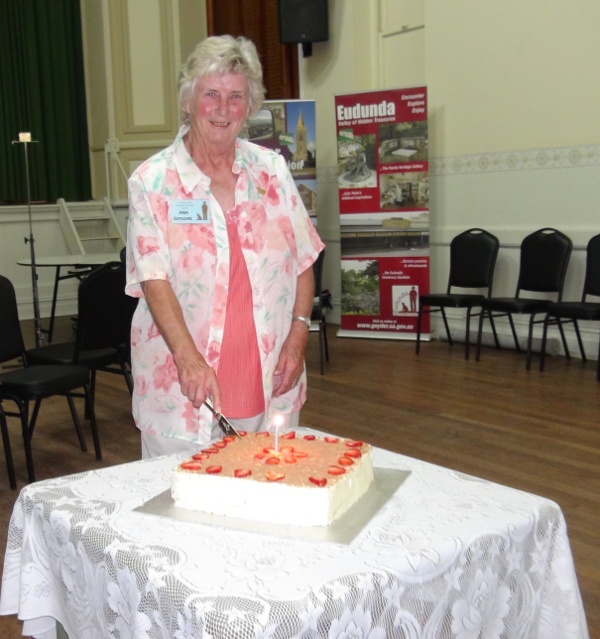 Our guest speaker was Michael Wohltmann who is a retired school teacher, historian and author of his book "A Future Unlived" 'A forgotten chapter in South Australia's History'.
During research for his book he found that during World War I, there were 90 internment camps in Australia and Asia Pacific,  with two on Torrens Island in South Australia.
During the 'Great War' as it was called, some 6,890 people were interned with German/Austrian heritage, 4,500 being Australian residents. Michael says that many were classed as model citizens before the war. They were often interned because of some loyalty with their fore-fathers and some were still corresponding with distant relatives in Europe.
The Barossa Valley, Eudunda and Loxton were some towns with a predominately German heritage.
One precious piece of information, Michael unearthed relating directly to Eudunda was that a report in the Kapunda Herald, 12th Feb. 1915 tells of the 'Citizens Forces', conducting a blockade in Eudunda. At that time they were the reserve units of the Australian Army.
None of those attending the meeting had heard of this before, so it was very interesting. Another Chapter to the facinating Eudunda history.
Many German descendants joined the services to fight for Australia and its allies. This is evident locally with many names recognized on the local Honour Rolls.
We thank Michael Wohltmann for his very interesting talk.
More information and purchases of Michael' book can be found at https://torrensislandinternmentcamp.com.au
You can find another report with more detail on the Eudunda Portal
SA and Eudundas World War 1 Links