NEW GALLERY HOURS: Fri, Sat, Sun -10am to 2pm each day
There are some COVID-19 Rules to be adhered to,
but you can finally enjoy exploring the Gallery again.

To all our Followers, Friends, Volunteers, Committee – Please keep safe!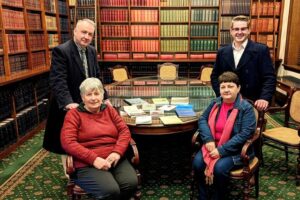 On Thursday 21st June 2022, several Eudunda Family Heritage Gallery volunteers travelled to Parliament House to donate books based on the Eudunda area to the South Australian Parliament Research Library….