Donating an Object
Preserving our past, one artefact at a time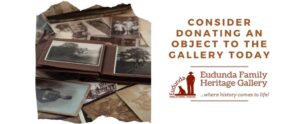 At the Eudunda Family Heritage Gallery, we regularly receive object donations from members of the public from the local community, wider South Australia, and even across Australia.
In our collection, we have objects ranging from farm machinery crafted by local blacksmiths to photographs, diaries and letters from the settlers of our first area. We aim for our collection to be as broad as possible, covering every aspect of life in Eudunda and the surrounding districts.
Each object, no matter how small, tells a story that relates to the local area around Eudunda. It may be a German exercise book that reveals what school was like in the 1890s, a piece of memorabilia relating to our many sporting associations, or a photograph or document that reveals the ordinary life of people living in and around Eudunda.
Not all objects in our collection are on display, especially photographs and other fragile items, so as to preserve them for future generations. These items are, however, accessible to researchers and visitors upon request.
Provenance is key if we are to accept any object into our collection. We need to know that there is a definite link to a local family, organisation or local place and that the donation is conducted within established guidelines, meaning that it is done legally.
We are not able to accept every donation that is offered. If, for example, the object is in a bad state of repair, requires specialist attention, or is simply too large, then it may not be accepted for the collection. This decision will be made by the Chairman and Secretary, in liaison with the Management Committee.
In order for a donation to be made you must:
Contact our Chairman or Secretary via email with a description of the item(s) you would like to donate and their connection to the Eudunda area; and
Fill out an Object Donation Form, handing over full ownership to the Gallery, complete with a description of the item(s) provenance and history, as well as any other relevant details. You will be sent this by the Secretary or Chairman after having completed the first step.
If you would like to donate an object to the Gallery, please send a brief description of the item(s) to our Chairman or Secretary. They will contact you to discuss if your donation is manageable or suitable for the collection. You can contact them via our Contact Page.
Alternatively, if you would like to support us in other ways, whether by volunteering, becoming a Friend of the Gallery, or making a financial donation, please go to our page, Support the Gallery.